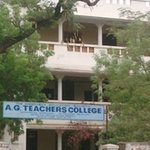 AG Teachers College
Ahmedabad, Gujarat
A.G.Teachers College was established by the Ahmedabad Education Society in June, 1952 with the help of donation dedicated/provided by Acharatlal Girdharlal Charities.
The above donation was purely dedicated to utilize to run educational institutes, to guide Ph.D scholars & to conduct various kinds of in-service training programme to strengthen class-room teaching of 21st century.B.Ed.course comprises of theoretical aspect as well as practical aspect.
College provides a platform to enhance and enrich innate capabilities lying in the trainees by organizing various co-curricular activities.
Address
Navrangpura, Ahmedabad 380009, Gujrat
---
Connect
07926442451
Courses
Trending Colleges Near Ahmedabad