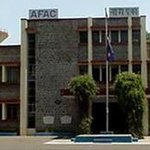 Air Force Administrative College
Coimbatore, Tamil Nadu
The Air Force Administrative College at Coimbatore is one of the oldest training Institutions for officers in the IAF. The college started as the Initial Training Wing at Pune in 1943 and was shifted to its present location at Redfields, Coimbatore on 11 Jul 1946 exactly a year after Wg Cdr S Mukherjee, OBE (the first Indian Chief of Air Staff, RIAF) surveyed the site. The site for the college was donated by Cavalier GK Devarajulu, a prominent businessman of Coimbatore.
The college was initially setup to impart service training to Flight Cadets of the general Duties (Pilot) Branch. In 1949, the college also undertook training of Flight Cadets of Administration, Accounts, Equipment, Education and Meteorology Branches. Gradually the Junior Commander's Course also shifted to this college from Jalahalli. In 1957, the college was named as Air Force Administrative College.
Today, AFAC has grown into a large multi-tier training institution that imparts training to all branch officers of the IAF. The primary task of this College is to conduct In–Service Courses for officers of IAF. Consequent to a deep-rooted review of training pattern in IAF in 2006, AFAC is tasked to conduct generic courses for officers of all branches and professional courses for officers of Accounts, Administration, Education and Meteorology branches.
Officers of the sister services and of a few friendly foreign countries also benefit from some of the courses. Since the introduction of restructured pattern of training in 2006, 3165 officers from IAF and 10 officers of friendly foreign countries have successfully completed training at this College.
The faculty of meteorology at this college is affiliated to Bharathiar University, Coimbatore for awarding Post Graduate Diploma, M Phil and Ph D programmes in meteorology.
ImageThe Air Force Administrative College (AFAC), located at Coimbatore, is one of the oldest training establishments of the Indian Air Force. It has been set up exclusively for conducting training programs for in-service officers of the Air Force, Navy and Army as well as officers of friendly foreign countries.
The college provides training and support to equip the officer trainees with the requisite skills for their work in the Air Force as well as to imbibe the service code of conduct.
Source:http://careerairforce.nic.in/train_estb/trainestab_afac.html
Courses
Engineering and Technology
1 Course
Physical Sciences
1 Course
Trending Colleges Near Coimbatore