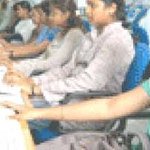 AMC Engineering College
Bangalore, Karnataka
In Banglore we have many top engineering college but This AMC engineering college is also one among them. This colleges was started in the year 1999 and their motive was to promote higher educations to women, men etc. This college provides seats to CET passed peoples with some higher cut off . I dont the cut off exactly. Then this college also has management seats. If you need the details of this college about the management seats please comment this or mail to this vpnking7892gmail.com. The only department that students can choose is Tele communications which is well know here. Placement activities has been given below.
The AMC ENGINEERING COLLEGE is an all-India Institute, established in the year 1999 for higher education. The primary motive of AMC ENGINEERING COLLEGE is to "train young men, women who able and eager to create and put into action such ideas, methods, techniques and information"
Over the years, AMC ENGINEERING COLLEGE has provided the highest quality technical education to students from all over India admitted on the basis of merit. Its graduates may be found throughout the world in all areas of engineering, science. AMC Engineering College symbolizes the maturing of Indian technical ability and "can-do" entrepreneurial spirit, especially as derived from the private sector.
AMC Engineering College is located in the picturesque 42 acres of land in Southern Bangalore on Bannerghatta National Park Road 12 KMs or 15 minutes drive from Jayanagar Shopping Complex. The College has expanded over the last 7 years and many modern buildings have been developed as part of the institution's commitment to provide higher quality education.
AMC College of Engineering places special emphasis on experiential learning in the training process. Towards that end, the College has adopted a pedagogical practice that provides for enhanced learning opportunities through co-operation with industry, business, counterpart institutions and international experience.
Source:http://collegedata.blogspot.com/2010/07/amc-engineering-collegebanglore.html
Address
18KM, Bannerghatta Road, Kalkere, Bangalore – 560 083.
---
Connect
0806638991
Trending Colleges Near Bangalore