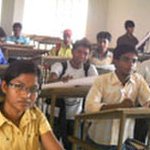 Anand Vihar
Bhopal, Madhya Pradesh
Anand Vihar College was established on 19th July 1999 by Vanita Samaj a society of women dedicated to social course and successfully running Anand Vihar School since 1963., The aim of establishing the college is to provide quality and relevant education with all necessary infrastructure for women and to imbibe in them a sense of identity and values of Indian culture.
The college is run by vanita samaj, Bhopal, registered under Madhya Pradesh Society RegistriKaran Adhiniyam(Registriation Number 36-1961-62).
The College is Affiliated to BarKatullah University, Bhopal. The B.Ed. Course of the college is approved by National Council for Teacher Education NCTE ).
The college is located on Link Road Number 1, 74 Bungalows, Tulsi Nager, Bhopal. It is centrally located and is less then I Km form New market and about 3.5 Km. from Habibganj campus Railway station.
The college has a beautiful campus spread over 2.15 acres. Adjoining the college compound is the green belt ,which provides a beautiful and healthy atmosphere to the scholars. Its strategic location along major bus routes is an added advantage for the students.
Address
College Link Road No. 1, Opposite 74 Bangalows, Bhopal.
---
Connect
0755-2761133
Courses
Trending Colleges Near Bhopal