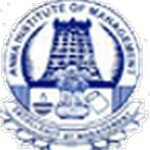 Anna Institute of Management
Chennai, Tamil Nadu
Anna Institute of Management is located in the city of Chennai, in a serene surrounding conductive for training, and is housed in a state of the art building complex with a built up area of over 8700 sq. mts. Facilities include an air-conditioned auditorium, fumished air-conditioned training halls,well equipped computer laboratory and a modern library. The Institute also has necessary accommodation facilities for housing trainee officials. Besides, Anna Institute of Management. Chennai is also connected with other Administrative Training Institutes in the Country through a dedicated network under a scheme sponsored by the Department of Personnel and Traning, Government of India, thereby providing a platform for resources sharing.
In order to facilitate latest use of training methodology. Anna Institute of Management is establishing a Video Conference Facility, funded by the Government of Tamil Nadu which will link Anna Institute of management to its sister organizations namely, Foundational Course Training Institute, (Group A & B officers wing), (FCTI) Chennai, and Civil Services Training Insitute, (CSTI) Bhavanisagar. This facility will be used for enabling officers of the Government of Tamil Nadu who attend training ar FCTI, Chennai, and CSTI, Bhavanisagar to benefit by viewing special lectures offered at Anna Institute of Management, Chennai. Further, this facility will facilitate trainers of Anna Institute of Management to access and interact with training institute around the country.
The library at Anna Institute of Management has a fairly large collection of books, reading materials and VCDs/DVDs on Management and allied subjects. The library has more than 60 management journals which are used by trainees exclusively during their training period.
It is also proposed to digitize the library for better dissemination of knowledge.
The Computer Centre is equipped with state of the art computers and other necessary logistics to improve the efficiency of the training.
The Computer Centre is extensively used whenever training programme on E-Governance and IT Enabled Services is conducted at the Institute.
For the benefit of trainees, Anna Institute of Management has capacity to accommodate more than 100 trainee participants in the hostel, which has adequately furnished rooms and other logistic facilities.
Address
Kanchi, 36 Greenways Raod, Chennai - 600028.
---
Connect
24938247
Courses
Trending Colleges Near Chennai