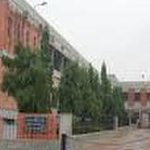 Atma Ram Sanatan Dharma College
Delhi, Delhi
Golden Jubilee historic alumni meet took place on a bright, Sunday afternoon, November 29, 2009 in the lush green gardens of Atma Ram Sanatan Dharma College. For the first time in fifty years a thousand students and teachers came together at their Alma meter. A college which started at Anand Parbat in 1959 by Sanatan Dharma Sabha was shifted to posh South Delhi area at Dhaula Kuan, Ring Raod, and New Delhi 110021 in 1966. The idea of Alumni Meet was conceived many times but could not materialize.
In 2009 Dr A.K. Rishi Officiating Principal of the College appointed Dr Vinod Sethi as Convenor of Alumni Meet a committee consisting of Dr Pinki Dureja, Dr A. P. Suri, Dr Rashmi Bahl, Student Union Advisor Mr P. K. Behera, and Dr Gulshan Sawhney was also constituted by the Principal. It was decided to celebrate last Sunday of November each year as the Alumni Day. The idea was welcomed by all the teachers, and in no time, the messages were sent by word of mouth, telephone and emails to students and teachers.Most retired teachers and students from batches of 1962 to 2009 turned up for the meet.
It was an emotional scene to be watched. Many were surprised to see the development and beautiful imposing building since they had left. A twenty feet flex on the college building welcoming students could be seen from the Ring Road itself. The Principal welcomed everyone and announced with pride the number of courses available and the facilities for the students. From the list of achievements one could feel proud that A R S D College has produced many outstanding and distinguished students.
Dr Vinod Sethi recounted that over the years college has produced Parliamentarians, Members of Legislative Assemblies, Corporations, Vice Chancellors, University Heads, Toppers in different disciplines, Inspector Generals of Police, Principals, Scientists, Chartered Accountants, Lawyers, Builders, I T experts in various national and international corporations, managerial heads in public and private sector companies distinguished defense personnel and even advisors in foreign countries. Fifty students were presented Distinguished Alumni Awards.Cultural Troupe under the guidance of Dr Gulshan Sawhney entertained the guests with scintillating dance performances.
Source : www.arsdcollege.net
Trending Colleges Near Delhi