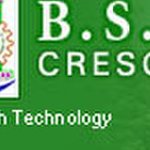 B S Abdur Rahman Crescent Engineering College
Chennai, Tamil Nadu
B.S. ABDUR RAHMAN CRESCENT ENGINEERING COLLEGE is acclaimed throughout India for its quality in teaching and research. Being one of the largest engineering colleges in India it lays emphasis on innovative research, investment in high-quality facilities and first-rate infrastructure. Also no fewer than nine of our departments are rated very highly.
By making use of the latest technologies and quality teaching, the college is able to offer a wide choice of interdisciplinary degrees in engineering.
B.S. ABDUR RAHMAN CRESCENT ENGINEERING COLLEGE is sponsored by the All India Islamic Foundation. The members of the foundation are eminent personalities in various walks of life such as education, research, industry, business and administration.
The President of the foundation Alhaj B. S. Abdur Rahman is the chairman of the governing bodies of the college and is also the managing trustee of the Seethakathi Trust, Chennai, which has established schools par excellence at Vandalur for boys and at Nugambakkam for girls and a leading Arts and Science college for women at Kilakarai. (Visit the Official Website of Alhaj B. S. Abdur Rahman: www.bsabdurrahman.com)
The All India Islamic Foundation runs schools for girls at Nagoor and at Madurai with vocational training. The foundation dedicates itself to the cause of education with special attention to technical education to the educationally, socially and economically backward communities and weaker sections of the society.
Trending Colleges Near Chennai