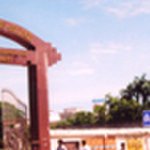 C Kandaswami Naidu College for Men
Chennai, Tamil Nadu
C.Kandaswami Naidu College For Men located in the heart of Chennai city has blossomed out of a rare combination of nobility, philanthropy and a deep sense of commitment to humanity of an individual, Thiru C.Kandaswami Naidu, who rose from his early humble beginnings as a stone mason to a rich philanthropist. The will left behind by this generous humanitarian enabled Dr.A.Venugopal, M.S., F.R.C.S., the then President of Pachaiyappa's Charities to resolve on 25th April 1967 to create an endowment in the name of Thiru C.Kandaswami Naidu to establish a college in Chennai for Men from the academic year 1967-1968.
C.Kandaswami Naidu College for Men had its initial roots in the main campus of Pachaiyappa's College, Chetpet, with its inauguration by the then Hon'ble Chief Minister of TamilNadu, Thiru C.N.Annadurai. The college offered the Pre-University course with Arts and Science subjects and a single U.G. degree programme in Economics with Professor T.I.Johnson as its first Principal.
In 1971-1972, the college was shifted to a ten acre site on lease from TamilNadu Housing Board at the initiative and sustained efforts of Prof.M.K.Dasarathan the then Principal of the college. The temporary building which housed the International Trade Fair in 1967 came in handy to accomdate the upcoming college.
The University granted permission to establish UG Programmes in Mathematics, Physics and Chemistry in 1980. The UG degree programme in Commerce was offered from the year 1984. Two more UG programmes B.Sc. Computer Science and Bachelor of Computer Applications and two PG degree programmes M.Sc. Information Technology and M.A. Social Work were all in place during 2005-2006.
Mean while, the college started constructing its building to replace the old thatched sheds. The foundation stone was laid by the then Education Minister Hon'ble Thiru C. Aranganayagam and the building itself was declared open by the then minister for Electricity Hon'ble Mr.K. Ramchandran.
Address
No:E7, III Avenue Annanagar East, Chennai - 600 102.
---
Connect
044-26262970
Courses
Information Technology
1 Course
Physical Sciences
1 Course
Trending Colleges Near Chennai