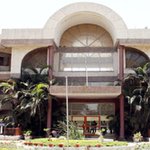 Career College
Bhopal, Madhya Pradesh
Career College is accredited at 'A' level by National Assessment and Accreditation Council (NAAC), Bangalore. We are having nine huge multistoried buildings on a sprawling 4 acre lush green campus.Along with huge computerized Library admeasuring 9,000 Sq. Ft. comprising of more than 25,000 text books, Reference books, Journals and Encyclopedia with reading capacity of more than 100 students at a time. In addition, secluded chambers for Research scholars are available.
The only College having facilities of Personality Assessment & Development Centre (PADC), Computerized Attendance Monitoring System (CAMS) and Mock Exams. Students Satisfaction Research Unit (SSRU) constantly undertakes surveys and feedback of the students so as to improve the performance.
We Provide Numerous career oriented courses to choose from Computers, Commerce, Management , Paramedical ,Physiotherapy, Biotechnology, Microbiology, Education, Biochemistry, Chemistry , Botany, Physical Education, Law, Library Science etc.
Address
Opp. Dushehara Maidan, Govindpura, Bhel, Bhopal. – 462023
---
Connect
0755-2586042
Trending Colleges Near Bhopal