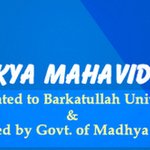 Chanakya Mahavidyalaya
Bhopal, Madhya Pradesh
Chanakya Mahavidyalaya is an educational institution on Graduate and Post Graduate pattern affiliated to Barkatullah University, Bhopal, in the state of Madhya Pradesh. It has the unique distinction of combining ancient ethos with modernity, traditional values with pragmatic dynamism. Chanakya Mahavidyalaya has espoused the cause of imparting quality education, at all levels.
Chanakya Mahavidyalaya is located at 11-12 Mandakni Society, Kolar Road, Bhopal, M.P. Since inception it is committed to the development and application of new and leading tools to explore problems at the frontiers of management and sciences.
This college seeks to bring together experts in Mathematics, Chemistry, Biotechnology, Microbiology, Botany, Zoology, Physics, Computers, Commerce and Management. Because of the unprecedented efforts of the director's and Principal of the college in realm of education, We are proud to say that Chanakya Mahavidyalaya has entered in the elite group of fine educational institutes of the city.
For the proper development and progress of our society in this era of globalization, it has become necessary that we should provide professional research and training to our students in the state-of-the-art manner.
The out molded approach of twentieth century would not deliver the goods. We have entered the twenty-first century and we need a new orientation in our approach and outlook to the needs of the youth.
There has been Unprecedented explosion of knowledge in every field of learning, arts and commerce not Accepted. Our students must be able to comprehend and understand all this so that they remain on top of the world as they have always been.
There is no denying the fact that in this world of computer and Micro-level learning our traditional methods would remain inadequate and insufficient. One of the reasons why students, after taking admission, take up computer and other professional education, so that they might be better equipped for the competition of this fast world.
Address
Mandakni Society, Kolar road, Bhopal- 462042
---
Connect
0755-4221121
Trending Colleges Near Bhopal