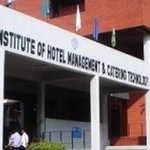 Chandigarh Institute of Hotel Management and Catering Technology
Chandigarh, Chandigarh
Hotels are the oldest commercial endeavor known to man. The beginnings of the hotels or inns have been traced from the sixth century B.C. The urge to travel has been the greatest impetus to the hotel industry. When people travel, they need a place to rest and have their meals. The invention of wheel gave a big push to the Hotel Industry, as people could travel faster and in more comfort.
Earlier there were inns managed by the family itself. The wife cooked the food and the husband helped in the maintenance of the inn. Today a hotel caters to every need and wish of the guest. Hence a hotel needs the services of trained staff to provide professional services for international clientele. The Hotel industry which is an integral part of the tourism sector provides a large percentage of the total employment in the tourism industry.
Till recently only the large reputed hotels believed in engaging trained staff, but now, even smaller hotels desire to have trained staff so as to provide the guest with excellent services. With the advancement in travel technology and increase in standards of living, globalization of Indian economy and as a result, the entry of multinationals in the country, there is a need of professionally trained staff and an effective infrastructure to keep up with this progression.
About Chandigarh, Pt. JawaharLal Nehru decreed "Let this be a new town, symbolic of freedom of India, unfettered by the traditions of the past, an expression of the nation's faith in the future. "It is a planned city, a model for the rest of the nation. A city dreamt of by Mayer, Novicki and Le Corbusier. Chandigarh is the cultural capital of Punjab, Haryana, Himachal Pradesh and the Union Territory of Chandigarh.
The Food Craft Institute was setup in February 1973 to fulfill the need of providing trained personnel for the hotels and other related fields as also to popularize wholesome foods with a view to the diversification of the ordinary Indian diet. The Food Craft Institute, Chandigarh now has been upgraded to CIHM&CT.
Address
Sector 42-D, Chandigarh – 160 036
---
Connect
0172-2676024
Trending Colleges Near Chandigarh