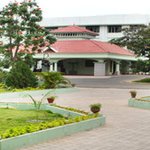 CMS College of Science and Commerce
Coimbatore, Tamil Nadu
The CMS College of Science and Commerce was granted autonomy by the UGC from the academic year 2007-2008. The autonomous status enables the institution to frame its own syllabi taking into consideration the needs of the society and demands from the industry. Subsequently, various Boards of Studies were formed and the syllabi were upgraded after prudent deliberation within the academia and frequent interaction with the industry.
Clubs :
OISCA Iinternational : 'Cultivate hearts and skills to promote nature, promote earth-oriented youth'. OISCA has always believed in promoting human welfare and harmony between humanity and the natural environment. The OISCA of CMS College is functioning with 24 members along with 82 members in "Youth Forum".
Theatre Workshop : Every year theatre workshops are conducted for 100 selected students of the college. Students are given good training in script writing, direction and acting. A team of highly talented faculty conduct the workshop every year.
CMS Fine Arts Association : The cultural and literary activities of the college are monitored by the Fine Arts Association. Cultural competitions are conducted at the collegiate as well as intercollegiate level by the Association to hone the talents of the students. The inauguration of the Fine Arts Association was conducted on 26th September 2008
Science Club : The club aims to develop scientific spirit among students. It is instrumental in improving scientific vocabulary, logical thinking and general knowledge.
Junior Jaycee wing, Fine Arts Association, Youth Red Cross, Nature Club, Debate Club, Tamil Mandram, Language Association are few other clubs that enrich the extra curricular activities.
Trending Colleges Near Coimbatore