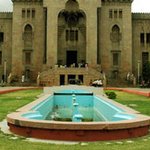 College of Arts and Social Sciences (Osmania University)
Hyderabad, Andhra Pradesh
The Department entered the Golden Jubilee Year in 2004. Started by Forest O'Dell the Department offered a diploma course with assistance from World Literacy Inc. Osmania was the first university in India to start a Bachelor's Degree (BJ) course in 1962. The Master's Degree (MJ) course was started in 1974 and the M.Phil in 1991 and PhD in 2005.
Responding to the industry needs and the growing importance of the field of Communication, the Department was renamed as "Department of Communication and Journalism" in 1976-77. The courses were also renamed as 'Bachelor of Communication and Journalism' (BCJ) and 'Master of Communication and Journalism' (MCJ). The late Prof. S. Basheeruddin, who headed the Department for many years also served as Indian Ambassador to Qatar, Vice-Chancellor, Dr. B.R. Ambedkar Open University and Director of the Research Wing of the Film and Television Institute of India, Pune.
Dr. Kavita Karan, Associate Professor was awarded Nehru Centenary British Fellowship,. Dr. C. Padmaja Shaw, Associate Professor, was on lien as Executive Director, (Programmes) SAPNET, MANA TV. Dr. K. Narender, Faculty member received doctoral fellowship of the ICSSR and is a media consultant to various organisations. Dr. K. Nageshwar, was the recipient of the UGC Career Award. He comments on diverse local and national television channels besides being a consultant to various journalism schools. Currently he is an elected representative in the A.P. Legislative Council.
Prof. P.L. Vishweshwar Rao, Professor, is the Co-ordinator for CAS Programme and former Prinicpal, he is currenlty the Dean of Arts, College of Arts & Social Sciences.
Under ASIHSS, the Department got a sanction of Rs. 32.55 lakhs by the UGC. The funds were utilized to strengthen the Television Studio and News Lab.
The Department has a full-fledged Seminar Library of about 2000 books. The Department library subscribed to 12 news papers and 15 magazines.
Several Media organizations periodically conduct campus placement tests to recruit journalists.
The BCJ students also produce a laboratory news papers called "Osmania Courier". The MCJ students produce an annual research journal called "Interface". The former students of the Department are working in various media organizations and have recently formed "Osmania Journalism Alumni Association".
Source: http://www.osmania.ac.in/ArtsCollege/communication_and_journalism.htm
Courses
Media and Communication
3 Courses
Trending Colleges Near Hyderabad