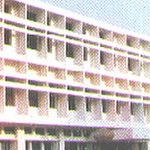 College of Engineering and Technology
Bhubaneswar, Orissa
The College of Engineering and Technology, Bhubaneswar was established by the Government of Orissa in 1981.
Today C.E.T. has established its reputation for its excellence in teaching combined with professional development of its students.
Since it's day of inception, C.E.T. has produced many young engineers who have been doing well in the industry and have made us proud.
All of us at C.E.T. are working hard to maintain our position as well as make significant progress in the days to come.
Courses
Information Technology
1 Course
Trending Colleges Near Bhubaneswar