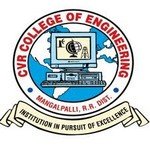 CVR College Of Engineering
Hyderabad, Andhra Pradesh
CVR College of Engineering was established in 2001, and its seventh batch of students just graduated from the College. CVR salutes fellow self-financing engineering colleges in AP for successful completion of 3 decades of service to the society.
CVR was ranked as the #1 college among more than 600+ colleges in AP that started in the last decade and was also rated as the#1 co-educational college in Pass percentage among ~300 colleges under JNTU, Hyderabad for exams held in May 2009, November 2009 and May 2010. It is the expectation of the academic community that CVR is on the successful path to be in the TOP-3 amongst all colleges in AP in the next couple of years.
The College was the first college in Osmania University (Telangana) area that was promoted by NRI technology professionals resident in the US. The NRI promoters are associated with cutting-edge technologies of the computer and electronics industry. They also have strong associations with other leading NRI professionals working for world-renowned companies like IBM, Intel, Cisco, Motorola, AT&T, Lucent and Nortel who have agreed to associate with CVR College with a vision and passion to make the College a state-of-the-art engineering institution.
Based on time to obtain NBA accreditation and EAMCET counseling preference during past 5 years
Source: http://cvr.ac.in/home/
Trending Colleges Near Hyderabad