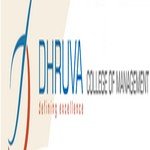 Dhruva College of Management
Hyderabad, Andhra Pradesh
Dhruva College of Management espousing the cause of management education, training, consultancy and research offers two-year full-time Post Graduate Diploma in Management approved by AICTE, Ministry of HRD, Govt of India.Dhruva has moved into its state-of-the-art new campus in the suburbs of Hyderabad. It history shared by more than a thousand management graduates.Many of its alumni made a mark in various corporates across the world.
Dhruva has catapulted itself into the international league through initiative and organized work. It is retained as the sole principal co-investigator for the state of Andhra Pradesh for Global Leadership & Organisational Behaviour Effectiveness (GLOBE) project of Wharton School of Business, USA.
Dhruva students are exposed to the wider world by way of industry internships, interface with academic and business leaders from all over the world and participation in management meets across the length and breadth of the country.
Dhruva believes in moulding an average graduate student into a holistic manager-grounded in the knowledge of management functions as well as steeped in fundamental qualities such as drive, initiative, cultural sensitivity and readiness to see the world as his oyster.
Dhruva's pedagogy provides acquisition of practical and team building skills that arise from business simulations and team projects. The first two trimesters cover the core curriculum subjects and in the remaining four one may specialize in twin electives from "an array" – Finance, Marketing, HRM, Systems . This apart, there are audit courses such as a foreign language, BPR, CRM, ERP etc. During the summer intervening the first and second year, students undergo 8 weeks of internship on an in-company real-time research project.
Dhruva is truly a happening B-School. Be it working on class room exercises, doing field studies, interacting with industry leaders or being socially responsive, Dhruva students are given ample opportunity to truly explore their innate capabilities and excel as global leader managers.
Besides offering the right kind of training, Dhruva also endeavours in making the students emotionally and spiritually strong. Here it's not so much a matter of lvy League sophistication as its a culture of values and commitment to ethics & morals.
Courses
Trending Colleges Near Hyderabad