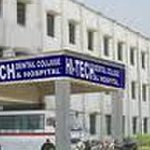 Dr DY Patil Institute of Management and Research
Pune, Maharashtra
The university is very keen about academic growth in terms of library, research and student welfare. Therefore, the budget of every college/institution includes specific provisions for research, staff development, library and student welfare.
Through our multidisciplinary approach to research and education, and ongoing collaboration with industry and other institutions our research efforts seek to expand knowledge, enhance growth and improve the quality of life in the townships of Pimpri and Chinchwad which are most outstanding revenue generating industrial hubs within India. We are dedicated to provide students, faculty, and staff of Dr. D. Y. Patil Vidyapeeth, Pune with the best available resources to achieve the highest standards of research and scholarship. These resources include leadership, information, guidance and support which are channelized through the office of the Director of Research of our University.
We accept the challenge of providing leadership in the development of new strategies of scholarship, including those which take full advantage of the strengths of inter-disciplinarity. For example, some of our faculty and student research projects deal with design of new drugs through computer modeling at our Bioinformatics Center while their combinatorial synthetic libraries are created within the Biotechnology labs. Harboring the plant tissue culture techniques for up-scaling production of therapeutically important secondary metabolites is also being pursued in some of these laboratories. Similarly the clinical samples collected at our OPDs are evaluated for their known as well as newly discovered disease biomarkers in our Biochemistry lab while their genetic profiles for their compatibility with prescribed drugs are examined by our collaborators in their genomics labs. The present day dental sciences employ novel materials for the conservation and implant techniques and hence we are opening up a new research center which will bring the material scientists and medical experts together for examining problems related to novel materials including the nanomaterials. Formulation of existing or newly discovered therapeutics is also undertaken through our inter-disciplinary projects with pharmaceutical sciences. All such projects are funded through in-house grants as seed money. We communicate with pride the academic achievements of our university community which enhance the personal, social and economic well-being of the members of our large community.
Our best indicators of success are recognized scholarship, research productivity, and the transfer of knowledge to our students and the community. We evaluate multiple indicators of accomplishment against national norms and an internal commitment to continuous improvements.
Source : http://www.dpu.edu.in/index.php?option=com_content&view=article&id=54&Itemid=80
Trending Colleges Near Pune