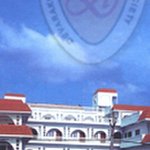 DVR PG Institute of Management Studies
Hyderabad, Andhra Pradesh
The Devarakonda Educational Society was established in the year 1994, with Registered No.4678/94, under the Societies Act, Govt. of A.P., with a primary objective of establishing the Institutions of higher learning, in the disciplines of Engineering, Technology, Management, Computer Applications, Pharmacy and Medical Sciences.
The Devarakonda Educational Society has established DVR College of Engineering & Technology in the year 1997 - 98, DVR PG Institute of Management Studies and DVR PG Institute of Computer Applications offering MBA, MCA programs during the year 1999 - 2000 and in the years to come planning to offer Pharmacy and Medical Courses.
THE DVR PG INSTITUTE OF MANAGEMENT STUDIES (MBA PROGRAMME) The AICTE, New Delhi, has accorded in Lr.No. F-AP-3/ET/APR(MBA}/99, dated 28-10-99 approval for starting MBA Course during the academic year 1999-2000.
The Government of A.P in their order No. 318 Edn. (EC2) Dept.
Dt.24-11-99 have granted permission to start MBA course during 1999 - 2000 with an intake of 40 students.
Osmania University in its letter No.18/H/99 - 2000 MCA/MBA NEW /Acad/ III - I, dated :04-01-2000 has granted its affiliation to start MBA Programme during the year 1999 - 2000 with an intake of 40 students.
The college is privileged to have a well qualified faculty. The management is committed for providing best faculty, fully equipped laboratories, excellent infrastructure facilities, maintenance of standards, and the discipline to reach the higher goals in pursuit of excellence.
The management is conscious of its responsibilities and has a laudable objective of making DVR PG Institute of Management Studies as leading institution for imparting Quality Education and Training.
Address
1-98/5/2/A D V R Bhavan, Adj To Hitech City, Vittal Rao Nagar, Madhapur, Hyderabad, Pin – 500034
---
Connect
08455231742
Trending Colleges Near Hyderabad