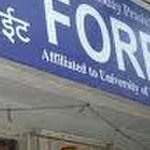 Foresite Institute of Management
Pune, Maharashtra
FORESIGHT nurtures a set of values that makes for a winning attitude – that is, professionalism, respect, open communication, fairness, integrity, and teamwork. Our vision is to impart an innovative and applied education in tune with the times and to equip young people from across the country and abroad to make meaningful contributions to an economy that is increasingly locking into the global arena. We have come a long way only to guide our students to achieve their career goal. Our framework is ready to enable you to enhance your talent, seize opportunities, and anticipate challenges in the process help you to grow.
How do we achieve this? Developing the right temper Creating "knowledge centers" in areas of focus. Creating "ready-to-lead" individuals
To do this, we have three objectives: to strengthen education leadership to enhance student achievement; to improve learning opportunities; and to expand participation in industry.
Source : http://www.foresightedu.com/index.php?option=com_content&view=article&id=61&&Itemid=61
Trending Colleges Near Pune