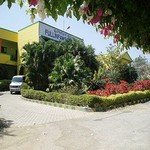 Fullinfaws College
Bangalore, Karnataka
Fullinfaws College, an Anglo-Indian Institution Bangalore University, is run by the Lawrence Fullinfaw Memorial Trust. The Trust was formed in 1997 to commemorate the memory of the Late Mr. Lawrence Anthony Fullinfaw.
The Fullinfaws College is an Anglo-Indian Christian Minority Educational institution. Anglo-Indian Institutions are reputed for their discipline, commitment and dedication to the cause of education of the younger generation. This discipline, commitment and dedication is now being extended in the fields of higher education also. Fullinfaws College is the first Anglo-Indian College in this country to provide this service.
Mr. Lawrence Anthony Fullinfaw, the inspiration behind the Institution, strongly advocated the use of education as a means to build the life, career and character of every individual living in our society. As an eminent Educationist, Lawrence Anthony Fullinfaw fully believed that through the path of education, individuals can face challenges, eradicate poverty and overcome hurdles by finding solutions not only for themselves but also for the whole society. He visioned that the right type of education can inspire the youth with high ideals and spirit of patriotism, moulding them into valuable citizens and helping society in the task of building the nation. As a social worker, visionary and capable administrator, Lawrence Fullinfaw dedicated his life to the upliftment of the downtrodden by spreading the ideals of education. His ideals still motivate the Institution.
Address
Akshaya Nagar,Yellanalli, Begur,Near Vadiraj Kala Bhavan, Off Bannerghatta Road, Opp. Meenakashi Temple, Bangalore-560 076
---
Connect
080-26487805
Courses
Information Technology
1 Course
Trending Colleges Near Bangalore