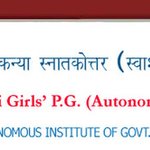 Government Geetanjali Girls College
Bhopal, Madhya Pradesh
Govt Geetanjali Girls' P.G.(Autonomous) College was established in 1986 and named after the beloved daughter of the Former President the Late Dr Shankar Dayal Sharma. Within a short span of 25 years the college has made rapid progress in the field of Higher Education as well as professional studies, by introducing several unconventional and job-oriented courses .
A dire need to impart Higher Education to girls was felt in the MIC gas affected area of old Bhopal, and the Madhya Pradesh Government stepped in at the right time to provide the required infrastructure and funds, and thus was established Govt. Geetanjalii Girls' College in 1986.
Govt. Geetanjali Girls' P.G.(Autonomous) College is the only non - technical college of the state to get permission in 1994 from the AICTE, New Delhi to run the Master in Computer Application (MCA) course.
A Training & Placement cell is also active and has helped many bright students to get jobs in prestigious multinational companies.
The aim of imparting higher and employment oriented education is to enable the girls to shape a bright future for themselves and also to make them self supporting units of the society.
Uniform is compulsory for all students.
Autonomy was granted by the University Grants Commission to the College, which came into force from the academic year 2011-12. It complies with various objectives of autonomy like preparation of curriculum, conduct of examinations, innovations in examination pattern. The college gets the advantage to introduce short term courses, and other degree/diploma courses.
Source:http://www.mp.gov.in/highereducation/ggcbpl/aboutcollege.html
Courses
Information Technology
2 Courses
Biological and Environmental Science
1 Course
Humanities and Liberal Arts
2 Courses
Trending Colleges Near Bhopal