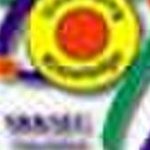 Government Science College
Ahmedabad, Gujarat
Government Science College, Ahmedabad is Gujarat University.
The mission of institute is to aspire to earn reputation as a center for excellence in the state for imparting higher education in the diverse faculties. A variety of teaching and learning techniques are employed to impart knowledge and skills to students at Government Science College, Ahmedabad in its various departments.
There Endeavor to inculcate a vision among its students in pursuit of higher education not merely for fulfillment of individual accomplishment, but also with a concern of the overall development of Gujarat and the nation.
Focus the education in science by giving special emphasis to biology keeping high ideal and exploring the secrets of the nature to serve thereby a mankind to provide every comforts of life.
Source:http://www.minglebox.com/college/Government-Science-College-Ahmedabad
Address
Padmashree K. K. Shastri Educational Campus, Khokhara Road, Maninagar (E), Ahmedabad, Gujarat, India - 380 008
---
Connect
079-22934008

,
079-29293503
Courses
Information Technology
1 Course
Physical Sciences
1 Course
Biological and Environmental Science
1 Course
Trending Colleges Near Ahmedabad