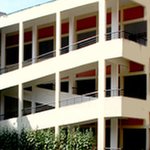 Guru Gobind Singh College for Women
Chandigarh, Chandigarh
Since its inception in 1973, our college has grown from a modest beginning into a premier institution in the field of education for Women.It has come a long way in its journey of evolution as an institution of distinction for itsacademic programme, intellectual vigour, cultural and moral sensitivity, dedicated faculty and excellent achievements of students in various fields.
To meet the challenges of the changing economic scenario, the college has geared up efforts to introduce new courses of study and necessary infrastructural facilities and a team of well qualified faculty who work consistently and tirelessly to impart wholesome education to the students with a special emphasis on inculcation of moral and ethical values aptly expressed in its motto " Shubh Karman Te Kabhun Na Taron ". (Never to stray from the path of righteousness). From a humble beginning to a scintillating success, our college has come a long way in the journey of evolution as an institution of distinction.
Our growth over the last 36 years of our existence has been extraordinarily remarkable. At present college have more than 1100 students on our rolls. About 350 students are living in the college hostel which has all the latest facilities and modern amenities. The reign if the college is in the hands competent hands of Principal Dr. (Mrs.) Charanjeet Kaur Sohi under whose dynamic leadership along with the unflinching support of experienced and enlightened management, the college has made the tremendous progress.
To facilitate the students in developing a holistic personality we have highly qualified, experienced and dedicated staff who instill in the students all round excellence in all spheres of education. The college has been the centre in academics, sports and cultural activities. Seminars, workshops, fest, lectures are a regular feature. Personality development is also a part of curriculum to enhance the confidence and performance of the student.
Courses
Information Technology
1 Course
Physical Sciences
1 Course
Humanities and Liberal Arts
1 Course
Trending Colleges Near Chandigarh