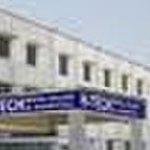 Hi Tech Dental College and Hospital
Bhubaneswar, Orissa
Hi-Tech Dental College & Hospital is established and approved by Govt. of India, Ministry of Health &FW as per F.No. V. 12017/53/2003-PMS/DE with the capacity of 100 students in BDS course for the academic Session 2006-2007.
It is a subsidiary unit of Hi-Tech Medical College & Hospital under Vigyan Bharati Charitable Trust, a 300 bed running Hospital at Pandara, Bhubaneswar.
It is equipped with the latest Medical equipments. The whole campus which includes all the colleges, Hospital & Hostels are situated in a serene atmosphere . Separate rural and urban health training centers have been established so as to impart field-practice training to dental students and helping the needy people nearby and those in remote areas.
It is synonymous with quality teaching and training. Each department is well equipped and each member of the faculty, master in his/her choose field of specialization. The teaching methods at are conventional and radical at the same time. Classroom teaching, seminars, hands on experience, museum visits, workshops, guest lectures; all form part of teaching . Tastefully equipped library along with Internet facility is the source of addition information on the subject. While there is a dearth of qualified and trained nurses allover the globe, our organization have them in bountiful. It has its own school of nursing which is the base of the placements. Residential facilities for the students pursuing studies in various disciplines are of great importance.
It has a sprawling campus that has a planned and aesthetically designed structure housing the hospital, medical college, school of nursing, separate hostel for boys and girls, recreation facilities etc, in the premises. Here it is always service to mankind. College is a class apart because the induction program deals basically with practical and interactive approach to the lectures.
The secret of the success of any dental college or hospital lies in the quality of its faculty. Our team has eminent doctors with teaching experience and Nationalized with and administrative affairs. It owns its name and recognition to the dedicated and determined efforts of these crusaders of health care and the team of paramedical, nursing and general staff who with their unstinted efforts have provided the impetus to this young organization. The faculty strength and profile is the backbone of any institution as they are the people who groom the students and shape their career.
Courses
Trending Colleges Near Bhubaneswar