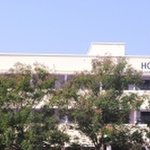 Holyfaith PG College
Hyderabad, Andhra Pradesh
Holy Faith P.G. College situated by the side of four Lane Track of Hyderabad - Warangal, 7 KM from Uppal X road and 2 Km from Singapore Town Ship. The campus lies close to the up coming Raheja IT Park. The Institutes offer MBA & MCA programs and supported by the finest facilities and experienced faculty to impart 'quality' inputs to develop students to face Management and IT challenges. Experienced faculty and experts guide our approach and activities from industry. During the period of Two/Three years, the young and enthusiastic youth are meticulously mentored through all business organization facets and its functions. The performance of students is continuously assessed, and monitored.
      The college offers two year full time program of Master of Business Administration (MBA), three year full time program of Master of Computer Applications (MCA), affiliated to Osmania University, Hyderabad approved by AICTE.

      The administration, examination etc. are as per the calendar, norms and specifications stipulated by Osmania University as the college is affiliated to Osmania University. These programs lay emphasis on classroom teaching followed by group discussions and case analysis.

Address
Chowdary Guda (V), Ghatkesar, Ranga Reddy District - 500088.
---
Connect
958415255559
Trending Colleges Near Hyderabad