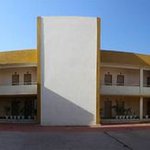 Institute for Excellence in Higher Education
Bhopal, Madhya Pradesh
I E H E was setup in 1995 by the state govt. with the intent that the Institute should become a seat of learning for the brightest students and should aim at a pointed thrust to bring about a qualitative change in the higher education system of the state and at grooming its manpower to meet the challenges emerging as a result of major economic and technological changes taking place in India and the world. The Institute is striving at developing an IT friendly atmosphere with computerised digital library and offer extensive Internet exposure for students.
Management and Legal Status: The Institute is autonomous and is managed by "The Institute for Excellence in Higher Education Society" Bhopal, registered under the Madhya Pradesh Society Registration Act 1973 and has been recognized by the UGC in July 2002 under 2(f) & 12(B), of the UGC Act 1956. The policies are laid down by the General Council headed by the Hon'ble Minister for Higher Education, Govt. of M.P. and the Executive Committee headed by Additional Chief Secretary / Principal Secretary, Higher Education Department, Government of M.P..
Autonomy was granted to the Institute by Barkatullah University, Bhopal in 1997, under the provision of section 6(16) of the M.P. Vishwavidyalaya Adhiniyam, 1973, while the UGC autonomy has been granted in January 2007.
Making judicious use of this autonomy, the Institute designs and routinely updates its syllabi to meet the standards of the best of national and International Universities. It also constantly evolves and upgrades the teaching, evaluation and examination methodologies.
The Director is the administrative head of the Institute and all academic matters are decided and implemented by various bodies (General Council, Executive Committee and Academic Council) constituted as per the memorandum of 'The Institute for Excellence in Higher Education Society', Bhopal and also the guidelines of UGC for autonomous institutions (Governing Body).
The Director in co-ordination with the heads of the departments and faculty members, ensures the smooth functioning and management of academic and administrative matters.
Source:http://www.iehebhopal.com/
Address
Kaliasot Dam, Kolar Road, Post Box No. 588, Bhopal. – 462016
---
Connect
0755-2492460
Trending Colleges Near Bhopal