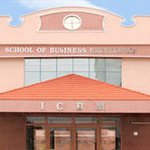 Institute Of Computers and Business Management
Hyderabad, Andhra Pradesh
ICBM-SBE is now in 20th year of academic excellence and is regarded one of the foremost institute for quality management education and top order placements. As the saying goes tiny drops of water gather to create an ocean, ICBM-SBE has followed suite from an initial humble beginning, growing from strength to strength and is now enjoying a unique niche in the Management Education Scenario of the country.
ICBM-SBE was conceived n the year 1989 by a group of young, self motivated and dedicated professionals with the main aim of providing the right guidance, training and development of graduates into livewire, dynamic professionals, that too at the most affordable fee structure.
With this motive in mind, ICBM-SBE overcame the initial teething problems of acceptance and gradually grew into an institute to reckon in the Management and Computer Education field of twin cities of Hyderabad and Secunderabad with a niche of its own. At present ICBM-SBE ranks amongst the foremost of Management and Computers Education Centres of the Country.
Source: http://www.icbm.ac.in/index.php?option=com_content&view=article&id=62&Itemid=53
Address
Ishwar Abode, Upperpalli 'X' Roads, Hyderguda P.O, Hyderabad - 500 048.
---
Connect
040-65536834
Trending Colleges Near Hyderabad