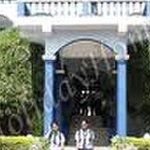 Institute of Hotel Management
Chennai, Tamil Nadu
Mr. S.V. Baskaran, B.Sc., D.H.M.C.T (IHM, CHENNAI, 1981-1984 Batch) has worked in Saudi Damman Oberoi. He is an eminent Professor and served in Saudia Catering Saudi Arabia as an able Administrator and worked in costa Curisline under various positions. He has a vast working experience of not less than 25 years.
State Institute of Hotel Management & Catering Technology, Tiruchirappalli has grown to multifolds under his leadership. He is a trend-setter in taking catering education to the rural mass. His dynamic efforts to transform the rural students to skilled hotel professionals is well appreciated by the Industries. He is both industrious and intelligent in taking decisions and executing them with care and competence.
The State Institute of Hotel Management & Catering Technology(SIHMCT), formerly known as Food Craft Institute(FCI) situated at Thuvakkudi, Tiruchirappalli, Tamilnadu, South India was established on 01/10/1981 by Govt. of India on the land and building transferred from the then Regional Engineering College, Tiruchirappalli(Now National Institute of Technology, Tiruchirappalli) measuring 26.57 acres with a building measuring 15,600 sq.ft. It is registered under Societies Act, 1975. It is jointly sponsored by the Govt. of India and Govt.of.Tamil Nadu.It was upgraded from Food Craft Institute to State Institute of Hotel Management & Catering Technology on 15.12.1998.
The Institute was started with a modest beginning of 48 students in the Academic Year 1981 and the student' intake has grown above 500 during the Academic year 2007-08. The Institute has been producing outstanding students for the Hospitality Industry in India and overseas by a dedicated team of professionally qualified and highly experienced faculty with International exposure in leading Hotels and Cruise Liners. It has been the reputation and Brand Image of SIHMCT, which has been attracting hoteliers from all over India to conduct Campus Interviews. The excellent Institute-Industry Cooperation has been responsible for the 100% placement record that has been maintained over the years.
The Founder-Principal of the Institute Shri Inder Bahri is specially remembered today for his magnificent and magnanimous contribution in laying the strong foundation on which this Institute is built. Shri Inder Bhari's inspiration has continued to create an unending story of dedication and commitment from the staff towards achieving and exceeding expectations of Parents, Society and Industry. In fact the Dream and Vision of Shri Inder Bahri has made him a legend. The Institute follows a Multi Disciplinary Approach so as to make the learning experience enriching and relevant. The concept is based on Structured and Unstructured learning. The methodology is both Academic and Practical. In order to succeed in the Hotel Industry, the students must have a combination of Technical and Soft Skills.
Hence the Institute has diversified over the years to embark on a mission to bring about Total Personality Development. The panel of Experts who have shared their knowledge, values and skills with the Faculty and Students, have left a deep impression and this has been reflected in the messages and letters received from the old students of the institute expressing their gratitude to the teachers who have made them young achievers in this highly competitive Industry.
The Institute gives special emphasis to Event Management and encourages its students to actively participate in Seminars and Workshops.
Hotel and Catering is one of the largest industries employing lakhs of people. Holiday-makers, business-travellers, overseas-tourists, visitors to theme-parks and leisure-centers, week-end breakers all travel away from home and create demand for food, accommodation and hospitality. Industrial-catering, fast-food centers, theme restaurants Clubs, Catering & Hotel Management establishment, self entrepreneurship and off-shore-catering in food products are other sectors in the catering industry which covers such large operations as health and education and airline and cruises operations.
State Institute of Hotel Management & Catering Technology, Tiruchirappalli has provided high quality courses in Hotel & Catering for over 29 years and has excellent links with the industry and has made a name at global and national level providing personnel for the industries both at Home and abroad.
Our diploma holders are employed at home and abroad in management operations, consultancy, research and design in a variety of organizations which can range in size from multinational hotels, computer and leisure centers to independent restaurants, conference venues, tourism departments and up to even managering and liasoning.
Trending Colleges Near Chennai