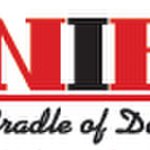 International Institute Of Fashion Design
Hyderabad, Andhra Pradesh
Inter National Institute of Fashion Design (INIFD), the world largest Design Institute with presence worldwide,over 2 Lac Pass outs and approximately 20000 students passing out every year. A small dream 17 years ago saw the genesis of a fashion and design institute in Chandigarh. INIFD aims to take education in fashion and design to the common man in India by providing quality design education at affordable fee right at their doorstep. Today, with collaborations from Istituto di Moda Burgo, Milan (Italy) and 81 year old Annamalai University, INIFD has presence across the length and breadth of the country.
INIFD revolutionises the entire field of Design education in country, keeping in sync with today rapidly changing dynamics of the fashion World. INIFD is the first educational Institute in the World to completely digitize education with INIFD Design Pad- A perfect combo of design & technology is poised to change the learning landscape for 1000 of students across INIFD centres.
INIFD is the Official Knowledge Partner of India's premier fashion and lifestyle event - Lakme Fashion Week. INIFD celebrates its 17 years in its existence associating with Lakme Fashion Week. The synergy between the education and learning centre and the fashion week is a first ever attempt to integrate knowledge sharing between the leaders of the fashion business and the future of fashion in India. It's a two way process wherein students get to be part of the fashion week at various levels, thus enhancing their practical skills and an on the other INIFD aims to leverage the successful talent base in the country who are part of the fashion week back into education. And set role models for the future generation.
World class education facilities, indigenous curriculums blending theory with practical experience, industry interface, and showcase, helps INIFD to stay leagues ahead in fashion and design education. INIFD prepares students for professional excellence in design, fashion, and business by providing the premier educational experience that fosters creativity, career focus, and a global perspective.
Address
3-6-154, Inifd Campus, 3rd F;oor, Victory Vision Apartments, Beside KFC, Himayat Nagar, Hyderabad, Pin – 500029
---
Connect
040-67118480

,
009246105922
Trending Colleges Near Hyderabad