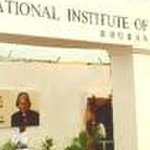 International Institute of Information Technology Bhubaneswar
Bhubaneswar, Orissa
IIIT Bhubaneswar owes its origins to the initiative of the Government Orissa. It is a result of the desire of the Government to establish a world class institute of Information Technology in the state. The Institute has been registered as a society in 2006. The Management of the institute is in the hands of a Governing Body, consisting of representatives from the Government of Orissa, Leaders from the IT industry and eminent educationists.
IIIT-Bhubaneswar will focus on quality and rigorous education, quality resource, academic infrastructure, technology and innovation. These initiatives will help IIIT-Bhubaneswar achieve pre-eminence in India and beyond. Our vision is to be an unique institute imparting education, training, research, and consulting in technology and related fields to develop human resources who will lead the economy and the society in the coming decades.
The mission of IIIT is to be a knowledge seeking Institution of higher learning that will educate students in technology and other disciplines of scholarship. The Institute will work closely with the Industry and other users of the technology to develop and deliver technological solutions to enhance their competitive position.
The Institute is committed to the entire value chain of knowledge creation, diffusion and preservation to meet the challenges of the century. The Institute will borrow best practices in education delivery systems, research and consulting practices. Leveraging technology to bring about next generation of practices will be a key to this strategy.
The Institute is dedicated to creating a community of students, faculty and scholars with passion for learning, creativity, innovation in all aspects of academic pursuit.
The Institute will cultivate values of Honesty and transparency, Respect for the Individual, Commitment to quality and high standards, passion for performance and sensitivity to social and ethical issues.source:-http://www.iiit-bh.ac.in/home/about
Address
IIIT Bhubaneswar, Gothapatna, PO: Malipada, Bhubaneswar-751003.
---
Connect
674-3016009
Trending Colleges Near Bhubaneswar