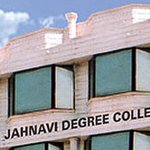 Jahanavi Degree College Secunderabad
Hyderabad, Andhra Pradesh
Jahnavi Degree College a premier education institution in the twin cities of Hyderabad and Secunderabad was established by a fraternity of dedicated individuals who strive to deliver education par excellence. The spark that ignited in the brains of the founders taken shape into three knowledge power houses in the form of Jahnavi Degree Colleges at three educationally, traditionally and commercially well known locations, Narayanaguda, Chikkadapally and Secunderabad.
The three locations where our colleges are situated are well connected to transportation from all areas of the twin cities.
The relentless struggle for years, in developing the institutions as the hub of knowledge and centers of excellence has today paid us rich dividends, which our students are rightfully enjoying. The thoughtful approach in imparting education to our students has made a tremendous impact among the students as well as the parents, The trust and amount of faith reposed in us by the parents are our pillars of strength to foster the future.
Akka's Education Society which was formed in the year1997. The society has been playing a noteworthy role molding the lives of the students by providing quality education over the years.
Jahnavi Degree Colleges were set up in the year 2003 under Akka's Education Society, with a motive to transfer the wisdom to the younger generation and to make them socially responsible citizens to take the nation to greater heights. Jahnavi Degree Colleges were started with just 50 students and today the strength has reached to a whopping 1500.
The institutions are affiliated to Osmania University and are recognized by the Government of Andhra Pradesh.
Address
Hardy Complex, 2nd Floor, Opp. Chermas, M.G. Road, Secunderabad -03
---
Connect
040-23433851
Courses
Physical Sciences
1 Course
Trending Colleges Near Hyderabad