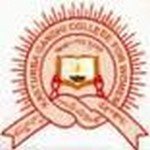 Kasturba Gandhi College for Women
Hyderabad, Andhra Pradesh
Named after the illustrious lady who stood by Mahatma Gandhi in thought and deed, Kasturba Gandhi College for Women was established in 1973 by the Osmania Graduates' Association under the patronage of the Exhibition Society. Since then, the college has come a long way adding block by block over the years in its sprawling campus, spread over 3.85 acres of land in centrally located Marredpally, Secunderabad. In 1998 the college celebrated its Silver Jubilee, marking the occasion by laying the foundation for yet another building, the Silver Jubilee Block. Starting with a modest student strength of 175 in the year 1973, the college now has a strength of over 2,500 students and 100 members of teaching staff pursuing value-based education through job-oriented courses conceived to meet the challenges that face the women of India.
In addition to the traditional courses at the undergraduate level in Arts, Science and Commerce, the college has introduced vocational courses with the support of UGC in BSc with Clinical Nutrition & Dietetics and in BCom with Tax Procedures and Practices. To keep pace with the changing times, the college has introduced Biotechnology, Microbiology, Genetics and has also moved into the Computer era by offering BSc with Computer Science and BCom Computers. Post Graduate courses have also been added and presently MCom, MCA, MBA, MSc (Computer Science) and MSc (IS) are available for those girls interested in acquiring higher qualifications. The Science faculties are housed in the new block and are equipped with excellent lab facilities, in particular the computer lab that is considered as one of the best in the twin cities of Hyderabad and Secunderabad.
Apart from the regular teaching schedule, the college also undertakes remedial classes for academically backward students of the SC and ST categories under the sponsorship of the UGC. The college has carved a niche for itself in terms of maintaining high standards. This is reflected in the consistently good academic results with large percentages of first classes in all faculties, year after year. The rank holders of the college have won many accolades including the prestigious Osmania University Gold medals and LN Gupta Memorial Gold Medals. The college has also maintained a good record in the Sports arena, with students winning numerous shields and medals in sports competitions, both nationally and internationally.
The teaching and non teaching staff of the college are a highly accomplished and dedicated group. Several teaching staff members are Doctorates. The administration of the college, under the competent guidance of the Principal, Dr Banoo Premkumar is ever responsive to the needs of the students.
Courses
Information Technology
1 Course
Physical Sciences
4 Courses
Trending Colleges Near Hyderabad