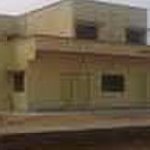 Kasturba Girls College
Bhopal, Madhya Pradesh
Kasturba Girls College, Bhopal was established in 1970, (Gandhi Centurty Year). The College is run by Kasturba Shiksha Samiti. The College is recognised by the Govt. of M.P. and Affiliated of Barkatullah University.
The College aims to provide the best education to girls in different streams like Computers, Science, Arts and Commerce. The medium of the course is in Hindi and English.
The College is running the graduate and Post-Graduate levels courses for girls, so the girls can choose the career option according to thier interest. The College is also arrange the the games, activities, cultural programs, intercollege compitions for the improvement of the girls in different fields.
In last few years the girls has win different prizes in these compititions, College is also having the Branch Rashtriya Seva Yojna, the girls participatein these program and recieves the Certificates.
Source:http://campus.yahoo.com/institute/info/kasturba-girls-college-bhopal
Address
Near Moti masjid,car parking, Bhopal
---
Connect
Courses
Media and Communication
2 Courses
Information Technology
1 Course
Physical Sciences
5 Courses
Humanities and Liberal Arts
5 Courses
Trending Colleges Near Bhopal