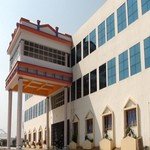 KGR Institution of IT and Management
Hyderabad, Andhra Pradesh
KGR Institute of Technology and Management was sponsored by KESA Society.
Founder & Chairman of the Society Sri Lion K.Govind Reddy.B.Tech; MBA; PGDM is an Industrialist with two decades of experience. Recognizing the need of young and dynamic managers in the fast changing corporate landscape, Sri K.Govind Reddy is actively associated with management and technical education for the last 15 years. KGR ITM was established in the year 2008-09 at Rampally (V), Keesara (M) around 7 km from ECIL 'X' Roads, Hyderabad with an objective of grooming young IT engineers & managers with enhanced personality traits and value based leadership qualities.
The Institute is approved by All India Council for Technical Education (AICTE) and affiliated to Osmania University, Hyderabad.
The Institute is located within the vicinity of Hyderabad city. The campus is about 7 km away from ECIL, Hyderabad.
Address
Sy.No. 419, Rampally Village, Keesara Mandal, Rangareddy Dist, Hyderabad– 501301.
---
Connect
04020080123
Courses
Information Technology
1 Course
Trending Colleges Near Hyderabad