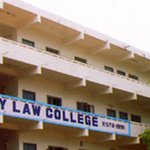 KV Ranga Reddy Law College
Hyderabad, Andhra Pradesh
A constituent part of A.V. Education Society, Hyderabad, is established in the year 1991 in the premises of A.V.College, Gagan Mahal, Domalguda. K.V.Ranga Reddy law college, Hyderabad is affiliated to Osmania University, and approved by the Bar Council of India, New Delhi and A.P. State Council of Higher Education, Hyderabad.
K.V.Ranga Reddy Law college is nurtured and groomed by the dynamic leadership of prominent academic and legal luminaries like Honorable Justice Konda Madhava Reddy garu, former Chief Justice of A.P.High Court and Bombay High Court and governor of Maharashtra; Shri. K. Pratap Reddy garu, senior advocate, High Court of A.P. and the president of A.V. Education Society and Professor K. Ramachandra Reddy garu, secretary, Shri. K. Raghuveera Reddy garu, the Correspondent of Law college.
K.V.Ranga Reddy Law college is located in a sprawling campus with good vegetation, with excellent infrastructural facilities like big and permanent buildings, spacious class rooms with good furniture, library and moot court hall a d also a big auditorium.
Address
A.V. College Campus, Domalguda, Hyderabad - 500029
---
Connect
9912597637
Courses
Trending Colleges Near Hyderabad