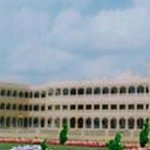 Madan Maharaj College
Bhopal, Madhya Pradesh
In view of this society has established a private college in the years 2000 in which job oriented ensure are being conducted since then in continuation of these efforts a building of own will all the necessary facilities was constructed opposite to the Subash Nagar Railway Crossing this building has 12 big halls and rooms. The chief characteristic of this building is a meeting hall of 2400 sq. feet area, well equipped computer laboratory and library.
A part from this the society has also constructed a huge college building on the plot area of 50,000 sq. feet on the self owned field of 5 acres in front of Karond grain Mandi in Bhanpur of Bhopal Different vocational course are being run successfully in this building such as DED, BED, MED, B.P.Ed which are affiliated to Barkatullah University Bhopal.
Our goal is to provide access of such education to the students which will make them self sufficient in getting live hood and facilitate self improvement.
The intellectual Academicians and Awaired citizens of Bhopal established a society in the year 1999, whose objectives are to import job oriented courses, training and to provide better serious related to health.
Courses
Information Technology
1 Course
Physical Sciences
1 Course
Trending Colleges Near Bhopal