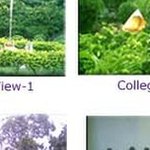 Navabharathi College of PG Studies
Hyderabad, Andhra Pradesh
Nava Bharathi College of Post Graduate Studies, was established by the Nava Bharathi Educational Society, in the year 1984, under the stewardship of its dynamic Secretary Dr M. Madhusudhan Reddy. The Osmania University and the Government granted permission to run the Master in Computer Applications (MCA) course from the academic year 1993-94 and Master in Business Administration (MBA) course from the academic year 1995-96. The college has obtained approval from the All India Council for Technical Education (AICTE) for its MCA and MBA courses.
The College is located at Bolarum, on the Hyderabad - Karimnagar highway (Rajiv Gandhi Rahadari) and is situated in a very calm salubrious campus with lots of green open space. It has well furnished classrooms, a modern computer laboratory and a well maintained library. Besides this, the College has vast playgrounds for recreation. These facilities make the College an ideal place for the students to pursue their studies and extra-curricular activities. The College has a computer centre with state of the art technology supported by an impressive and rich collection of software based on Pentium Processors. The College has Local Area Network (LAN), bridged with UNIX, supporting 105 terminals. Also, the centre has a separate Client/Server environment supporting widely used RDBMS like Oracle and GUI. Both the hardware and software are regularly upgraded keeping in pace with changing technology.
Coming to our regular expansion plan; we have constructed a new block for MCA and MBA. Our expansion plan includes classrooms,a well-furnished Library consisting of books and journals in the areas of Information Technology, Management, Social Sciences, Philosophy etc. There is also a new state of the art Audio Visual room which is well equipped with the latest audio and video facilities for the enrichment of knowledge among the students.
The faculty of our College consists of qualified and experienced members who impart quality education and training at all levels. They have all been selected by duly constituted Selection Committees of Osmania University. They constantly upgrade their horizons by attending AICTE Quality Improvement Programmes and UGC refresher courses. They also attend Industrial and Educational seminars. Two of them are pursuing their Doctoral Research.
We also have regular Personality Development sessions conducted by our Director Dr. Wg Cdr (Retd) M.Ghosh and other eminent personalities from the Industry.
The College has regularly been rated as one of the foremost Osmania University Affiliated Colleges by AIMA, Business India and other agencies every year.
Courses
Information Technology
1 Course
Trending Colleges Near Hyderabad