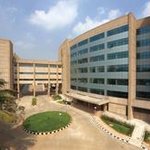 Nizams Institute of Medical Sciences
Hyderabad, Andhra Pradesh
NIZAM's INSTITUTE OF MEDICAL SCIENCES (NIMS), Hyderabad, is a University established under the Act of Andhra Pradesh State Legislature.
The objectives of the institute are:
to create a Centre of Excellence for providing medical care, educational and research facilities of high order in the field of medical science in the existing super specialties and such other super specialties that may develop in future, including continuing Medical Education and Hospital Administration
to develop patterns of teaching in post graduate level and in super specialties so as to set a high standard of medical education
to provide for training in paramedical and allied fields, particularly in relation to Super-Specialties
to function as a referral hospital and
to provide for post graduate teaching and conduct of research in the relevant disciplines of modern medicine and allied sciences, including interdisciplinary fields of physical and Biological sciences
Inspired by the objectives, the Medical and Management professionals of NIMS are striving for excellence. As part of it, several courses have been organized under different disciplines. NIMS is recognized by University Grants Commission and Medical Council of India.
The administration of NIMS is carried out under the supervision of Governing Council, Executive Board, Director and other statutory bodies.
NIMS is located at the prime centre of the twin cities of Hyderabad and Secunderabad, and spread over an area of about 23 acres. It has the constructed area of more than Six lakh sq.ft. The recently constructed giant structure, i.e., Millennium Block, itself has added an area of about one sixth of the total space.
This Institute extends its services through 28 Departments. Out of them, 16 are Super and Broad Specialties and others are Supporting Departments.
The Institute has a bed strength of 985 beds, out of which 684 are in General Wards, 117 in private rooms and 184 in emergency and post operative care. The average number of out-patients visiting the hospital per day is about 1275, and the number of in-patients admitted per day is about 80. The average bed occupancy is over 89%.
As on date, this University has a cadre strength of about 2219 staff members. which includes Faculty-139, Residents (students)-172, Junior and Senior Residents-43, Medical Officers & Senior Medical Officers-14, College of Nursing & School of Nursing-6, College of Physiotheraphy-6, Offcers-14, Ministerial-149, Paramedical-304, Nursing-426, Class IV-115, Consolidated Staff-21, Fessey workers about 810 and the remaining for other categories. Interestingly NIMS has been consistently maintaining a very good patient doctor ratio of about 3:1.
Source:http://nims.ap.nic.in/
Trending Colleges Near Hyderabad