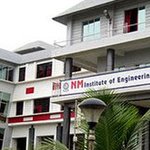 NM Institute of Engineering and Technology
Bhubaneswar, Orissa
Realising the need of the hour, NM Group of Institutions, the forerunner in the field of interactive and practical methodology, kick started its efforts from 1991 in the arena of providing high caliber pre-entrance coaching to serious minded students aspiring for a dream destination through a highly innovative approach and thereby converting the young minds to more than functional appendages of the knowledge economy. It is the quest to achieve a new spirit of excellence that has prompted NM Group, to create a benchmark in providing quality education right from KG to PG.
NM Group of Institutions, the Pioneer in Professional Training and Academic Education in the state since 1991 has established a strong identity among students & parents as the most credible and widely respected Group of Educational Institutions. Driven by the spirit of excellence the Group has risen fast to create a bench mark in Quality Education right from KG to PG. It has been able to build on its reputations as a knowledge provider through continous Reserach & Development.
NM Group of Institutions, has more than 15 study centres in different parts of the country including Delhi, Calcutta & Chandigarh.
The well developed infrastructure having magnificent college buildings, well equipped labs, lively class rooms, a spacious computer center with more than 120 computers and NM group of institutions highly qualified and experienced faculty members not only aids the students in their day to day teaching-learning process in the college but has created a very good student-teacher bond to make NMIET as one of the best Educational Institute in Orissa.
Source: http://www.nmiet.ac.in/index.php?view=article&catid=1%3Aabout-nmiet&id=60%3Aintroducing-nmiet&option=com_content&Itemid=53
Address
B-53, Opp. R.D. Women's College, Saheed Nagar, Bhubaneswar-751007
---
Connect
0674-2545295
Trending Colleges Near Bhubaneswar