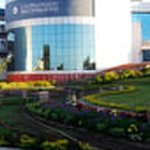 Radharaman Engineering College
Bhopal, Madhya Pradesh
WELCOME TO REC .... Radharaman Engineering College (REC), Bhopal is the pioneer institute of Radharaman Group of Institutions, (RGI) which is situated in hustle-bustle tree picturesque environment of Ratibad, in the out skirts of Bhopal.
Since its inception it has maintained the fast growing track record by adapting latest technology & techniques supported by ultra-modern laboratories in the field of teaching. Now it is believed to be one of the best institutions of Engineering & Technology in Central India. Apart from achieving excellence in academics it has also become a favorite spot for top-notch companies for hiring skilled & talented manpower.
providing every opportunity and to inculcate in them the desire to excel.
To impart the world class quality technical education to produce dedicated and competent technocrats
Trending Colleges Near Bhopal