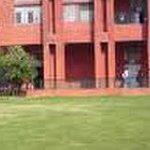 Ram Lal Anand College
Delhi, Delhi
RAM LAL ANAND COLLEGE was set up in 1964 by a philanthropist and legal luminary Late Sh. Ram Lal Anand, a senior advocate in the Supreme Court of India, to impart education at the university level. The College was managed by a Trust until it was taken over by the University of Delhi in July 1973. The Evening College was established in the same year and since then the College is being run as a Delhi University Maintained Institution.
The College is located adjacent to the South Campus of the University of Delhi in the picturesque surroundings of the South Delhi section of the the Aravali range.
The Evening College is a co-educational institution and conducts Humanities, Arts and Commerce courses at the undergraduate level. There are presently around 1400 students on the rolls of the College.
Courses
Physical Sciences
2 Courses
Biological and Environmental Science
1 Course
Humanities and Liberal Arts
2 Courses
Trending Colleges Near Delhi