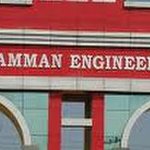 Sakthi Mariamman Engineering College
Chennai, Tamil Nadu
Sakthi Mariamman Engineering College (SMEC) has been established by Kannammal Educational Trust, with the intention of bringing technical education to both rural and urban students and to produce best engineers.
The Founder Chairman,Sri K.N.Ramachandran, a Humanist, Self-made man, Educationist and a Philanthropist has received the "Rashtriya Rattan Award" for outstanding individual achievements and distinguished service to the Nation during the year 2001.
He has realized his dream of starting Sakthi Mariamman Engineering College in a sprawling 10.89 acre campus.
The college has been approved by All India Council for Technical Education (AICTE), New Delhi, State Board of Technical Education, and Government of Tamil Nadu and is affiliated to Anna University, Chennai. The college is in its Ninth year of inception.
Trending Colleges Near Chennai