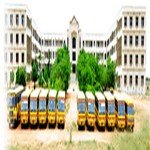 SCIENT Institute of Technology
Hyderabad, Andhra Pradesh
Scient Institute of Technology, an ISO 9001-2000 Certified Institute popularly known as SCIENT - is the first Engineering College in Ibrahimpatnam on the Sagar Road established in 2001 and is one of the most reputed engineering colleges in the state of Andhra Pradesh affiliated to JNTU, Hyderabad. It is located in 32 acres of lush green sprawling campus. It is approximately 25 km from Hyderabad and well connected by a network of roads.
The Institute is offering 6 Under Graduate Programmes B.Tech. (Computer Science & Engineering, Information Technology, Electronics & Communication Engineering, Civil Engineering and Electrical & Electronics Engineering, Mechanical Engineering) and MCA, MBA & M.Tech Programmes at PG level with a fine blend of young and experienced teaching faculty. The commitment and enthusiasm of the faculty members are exceptional and as a result SCIENT has been producing hundreds of top class engineering professionals over the years, who are now employed in scores of Multinational companies in India and abroad.
The College is aiming for NBA accreditation to prove that "SCIENT" is marching towards excellence.
Scient Institute of Technology has carved out for itself a big name all over the country and is recognized as a premier educational institution in India. It abounds in well equipped and sophisticated laboratories, well stocked libraries and highly qualified, experienced and dedicated staff members. In tune with the noble ambitions and aspirations of our society to contribute and develop the country by producing quality engineering professional, the Institution is ever growing and developing continuously. All the departments are encouraged to implement appropriate and necessary procedures to initiate, include and conduct different programmes in frontier areas.
Trending Colleges Near Hyderabad