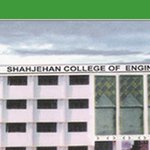 Shahjehan college of Engineering and Technology
Hyderabad, Andhra Pradesh
Shahjehan Group of Colleges is a renowned Educational Institutions offering various Business Management courses, Information technology and Engineering course approved by AICTE, New Delhi and affiliated to JNTU & Osmania University Hyderabad.
Education plays a significant role in nation building and economic development. The level of development should be such that every individual in the society will be able to lead a comfortable life, filled with opportunities to learn develop skills and earn a livelihood of high standards. The society shall be transformed its vision.
Address
Sy.No,232 & 239, Nayalate Village, Ramanaguda Road Chevella, R.R.Dist. Hyderabd.
---
Connect
08417-287785
Courses
Information Technology
1 Course
Trending Colleges Near Hyderabad