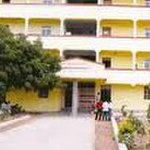 Sri Indu PG College
Hyderabad, Andhra Pradesh
AThe Management's vision and innovative approach, dedicated hard work and well planned technical teaching by the faculty help us to develop students into global standard professional engineers, meeting parents' and institution's aspirations. The college lays stress on assignments, practical training, personality development, sports and co-curricular activities to explore potential and ensure self discipline in students with interaction through counseling and various committees. So what makes SICET different is in Academics.
The college has a large Academic Advisory Board and Industry Interaction Council with distinguished scholars, top professionals and entrepreneurs who are known in the respective fields.
Competent, Hard Working, Dedicated Faculty & Staff – Effective teaching Methodology, Education Management and Student Facilitation. Faculty with Industry and Research orientation.
A complete peace that one feels inside the campus – Buildings and infrastructure – well laid out green and clean campus with all possible facilities.
Personality Development and not only technical education–Seminars – Sports.
Interaction with students and their involvement in College activities- welfare committee, canteen committee, suggestion boxes, student mentors.
Interaction with Industry -gap exists between what industry wants and what academicians provide -between what is expected and what is achieved— SICET works for bridging the gap between, what Industry wants and what colleges provide
Address
Vaidehi Nagar, Vanasthalipuram, Hyderbad – 500 070
---
Connect
040-24052166
Courses
Trending Colleges Near Hyderabad