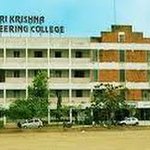 Sri Krishna Engineering College
Chennai, Tamil Nadu
Sri Krishna Engineering College is founded in 1999 by the far sighted vision of its illustrious Chairman, Thiru R. Vivekanandhan. The Sri Krishna Educational Trust started in the year 1998 provides financial assistance for the growth and development of the institution.
The academic activities of the college are guided by a governing council whose Chairman is Dr.P.Sivalingam, the founder Vice Chancellor of Anna University, The others members of the council are Dr. R.Subramniam, Executive Director, VHERDS, Dr.Sushil.K.Verma, Director General CIPET and a few others drawn from the managing trust.
The college was established with a vision to achieve excellence in technical education so that the student who graduate from the institution possess sufficient skills to build and IT strong india. Besides the college aims at imparting quality engineering education to all categories of students, especially to weaker, underprivileged and the down - trodden.
SOURCE:http://education.indiabizclub.com/profile/1738104~sri+krishna+engineering+college~chennai_india
Trending Colleges Near Chennai