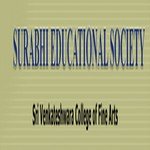 Sri Venkateswara College Of Architecture
Hyderabad, Andhra Pradesh
Sri Venkateshwara College of Architecture was established during the year 1996, as an institution under the banner of Surabhi Educational Society, Madhapur with the objective of true education and alround personality development of its wards. The college offers Bachelor of Architecture Course. 75% attendance is a must for students to appear with C.O.A. and A.I.C.T.E. approval. Surabhi Educational Society is headed by Sri S. Dayakar are Rao and Smt. S. Vani Devi and also has a College Of Pharmacy and a College of Fine Arts under its auspices.
Students of SVCA have an advantage to study any work in serene, unpolluted environs of Madhapur and also the able assistance of the faculty of Fine Arts and Photography whose influence, we believe, to be beneficial in developing into good Architects.
Source: http://www.surabhieducationalsociety.com/architec.htm
Address
86, Madapur Village, Sherlingampally, Hyderabad Ranga Reddy Dist. Pin-500 033.
---
Connect
040-23113699
Courses
Trending Colleges Near Hyderabad