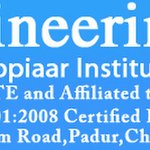 SRR Engineering College
Chennai, Tamil Nadu
The SRR Engineering College, under Siva Raja Ramalingam Trust was instituted in the year 2002. It is affiliated to Anna University and approved by AICTE, New Delhi.
SRR Engineering College under the Chairmanship of Honorable Dr.JEPPIAAR, M.A., B.L.,Ph.D is one among with the institutions of Jeppiaar Educational Trust.
Our college, in pursuit of the above vision was established with the objectives.
To establish a centre of excellence in Technical Education.
To bring out technocrats with superior skill and social commitment.
To renovate youth into good technologists and good expert professionals.
Courses
Information Technology
1 Course
Trending Colleges Near Chennai