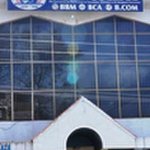 SSR College
Bangalore, Karnataka
Life is a progression from darkness to light and knowledge is the beacon of light which illuminates our path to self- realization. Education trains one to act and think independently to produce individuals who consider services before self. With this motivation, a dedicated band of Philanthropists planted the seedlings of the present educational Trust "S.S.R. Medical, Educational & Charitable Trust® in the year 1998.
In the present age, competition is in almost every walk of life and hence the present decade is termed as the decade of competitions. Ironically, this challenging term seems to be missing in its true spirit in most of the modern educational institutions. The strong conviction of making a person educated in true sense and not merely a literate makes us a little different. We are also proud to offer the scholarship programmes for the deserving students who are meritorious and are deprived of availing quality higher education. Thirst for bringing out qualified individuals of high caliber to take advantage of immense opportunities the world offers, demonstrates the mission of relentless service in education by the trust/institution.
While wishing you the very best of success in pursuing your chosen career, we remain upholding our motto of "Lighting the Lamp of Knowledge to serve the Society in the noblest of the ways."
When a STUDENT chooses a college, he/she chooses a style, a philosophy, a way of life and an education that, if properly applied, will provide a source of satisfaction, personal growth and livelihood. When they choose SSR COLLEGE, they are choosing that and much more. Â SSR COLLEGE offers one of the finest academic preparations in Business Management, Computer Science, Commerce, Pharmaceutical-Biological Research Sciences and Nursing Education fields.
 Our small size plans and personal methods of instruction give a priceless opportunity to grow and discover the students your greatest potential. Our concern always is to provide a professional challenge – in the classroom and in the laboratory and a personal challenge, fostering independence, responsibility and self-awareness. Our success will be shown in our student body, men and women who share a concern for the health and welfare of the society. We want our students to be more career-oriented than students at most colleges with remarkably diverse in their interests and goals. At our Institutions, this diversity of individual expression is both welcomed and encouraged.
Although students' education may begin at SSR COLLEGE, it never really is complete. This is particularly true in this new era, where innovative technology constantly adds to the body of knowledge to be learned. Student education at SSR COLLEGE is the beginning of a lifelong effort to relate what they have studied and experienced to their own ideas, talents and goals.
The Institution instills values, attitudes and skills that enable lifelong intellectual, cultural and personal growth for students and faculty. The education provided facilitates progressive adaptation to changing professional practice environments. Source : http://www.ssredu.net/about_us.html
Address
#11, 60 ft road, Amarjyothi Nagar, Vijaynagar, Bangalore
---
Connect
25459828

,
25457389
Trending Colleges Near Bangalore