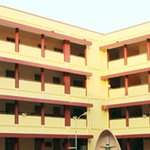 St Francis College for Women
Hyderabad, Andhra Pradesh
St. Francis College for Women, started in 1959, is a Catholic minority Institution founded by the Sisters of Charity for the holistic education for empowerment of women. The college is housed in an impressive campus spread over eight acres in the heart of the twin cities of Hyderabad and Secunderabad. From a student strength of 15 in 1959, the college has grown into a prestigious institution with a student force of 2400 and a staff strength of 110 teaching and 80 non-teaching members offering undergraduate and select postgraduate courses.
Autonomy was conferred on the college by the UGC in 1988. Since then the college has proved to be a trendsetter in academic development with a commitment to a value system and qualitative self-improvement. The college was accredited with 5 stars by NAAC (National Assessment and Accreditation Council) in the year 1999 and reaccredited at the 'A' Level in the year 2006. The University Grants Commission declared the college as a 'College with Potential for Excellence' in the year 2004.
The college offers an exciting range of undergraduate and postgraduate programs amply supported by a varity of diploma programs and certificate courses.Currently a choice and credit-based system is in place, allowing the students access to inter-disciplinary courses as well. Students can choose from a variety of courses and register to earn more credits by taking on additional courses.
Courses
Media and Communication
1 Course
Humanities and Liberal Arts
1 Course
Trending Colleges Near Hyderabad